Meet Astro, one of the newest additions to the Boulder Police Department (BPD). Astro is a year and a half old female Labrador/Shorthaired Pointer mix undergoing training to detect explosives and firearms. She should be ready for active duty sometime near the end of August this year.
The acquisition of a K9 for police duty was made possible through generous donations made by supportive community members via the Boulder Police Foundation (BPF). The Foundation is an independent 501c3 charity set up to provide funding for items not covered in the BPD's normal budget. They raise money on a project-by-project basis through events and online at www.boulderpolicefoundation.org.
The project request for a fully equipped K9 unit came because of a study done by Sgt. Ryan Scheevel who discovered over 300 calls for service over the past 14 months that would have benefited from a K9 unit's capabilities. Without a K9, the BPD must rely on the Sheriff's office and other surrounding agencies for support which can often take an inordinate amount of time. For example, during a recent bomb threat on Pearl St., it took nearly an hour for a K9 to arrive on scene.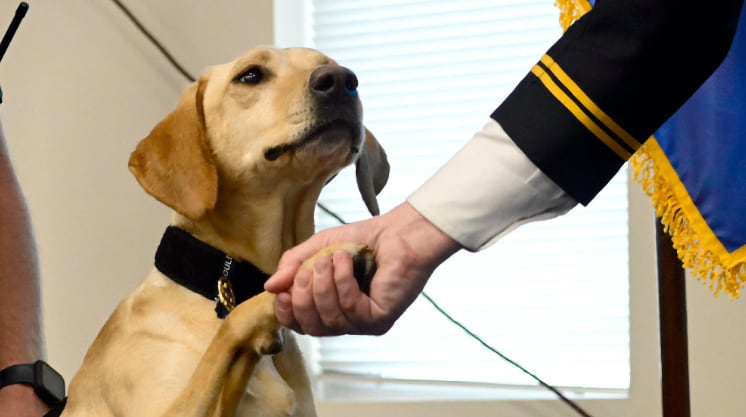 Astro raised her right paw, with the help of Sgt. Scheevel, and was sworn in with other recent recruits by Deputy Chief Steve Redfearn at a formal ceremony in June. Officer Caitlyn Donahue will be Astro's handler as she begins her first tour of duty. Chief Maris Herold and City Manager Nuria Riviera-Vandermyde both approved the establishment of a K9 unit within BPD and are eager to see the difference such a unit can make.
Chief Herold recently welcomed her newest officer, Astro, and shared the special meaning behind Astro's name. Fallen BPD officer Eric Talley, who died while on duty at the King Soopers shooting in 2021, was a huge fan of the Houston Astro's baseball team. With the support of Talley's family, the BPD chose to name their new K9 after Talley's favorite team to further honor and remember his sacrifice for the safety the community he served.
The Boulder Police Foundation is working to fund additional projects that include a virtual reality training capability and a social media program to attract new candidates for the department. Both projects are important for ongoing improvement in the quality of the BPD and for enhancing the safety of our community. More details can be seen on the foundation's web site and you can also donate to specific projects or a "general fund" on the site.